Gwave Releases an 8-channel End Launch Multi-coax Connector Based on The GPPO(mini-SMP) Interface
Posted by Jifang Cheng on
Gwave recently launched a based on GPPO(mini-smp) interface 8 channel multi-coax board end launch connector. The design of this connector comes from the increasing shortage of PCB board resources in recent years, needing a more intensive compact integrated connector.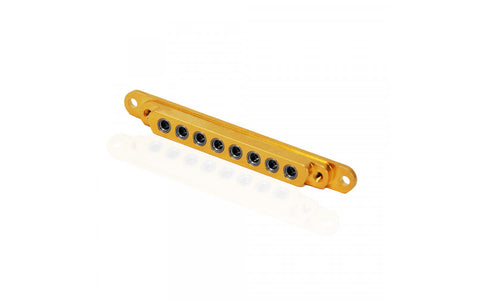 The highlight features of this connector as follows:
Design based on the general standard connector interface: this type of connector adopts the standard GPPO(mini-smp) interface to ensure the reliability of the design, and it is easy to test and verify. The biggest advantage is that the foundation is multi-coax with 8 channels, but the test cable assemblies use a single GPPO(mini-smp) cable assembly, which greatly increases the flexibility of use.
 Chassis reinforcement to protect PCB board: the chassis of the connector is designed to maximize its grounding performance. At the same time, the self-locking screws greatly increase the connection strength between the connector and the PCB, as well as the reliability and stability.
Tolerance design ensures blind insertion: it has been repeatedly proved that the connection ease of the modified product is one of the highlights in the 8-channel multi-coax connector design, realizing the blind insertion of 8-channel multi-coax cable assembly and 8-channel multi-coax connector.
---
Share this post
---
---